1
THE ACCUSED
August 29, 2015, is a hot night on Venice Beach. Normally the superheated inland desert sucks the damp air off the ocean, blanketing the coast with a layer of moisture all the way to the 405. But tonight, something has gone wrong. There's no fog, and the sky is boiling, even at 2 am.
A dark SUV pulls in front of the Cadillac Hotel, a two-star lodging better known for its cheap rooms and stained carpets than its views of the ocean. The car's lights wash over a homeless man sitting on the sidewalk. The homeless live all over Venice Beach and have for as long as anyone can remember, particularly at the northern end of the boardwalk on the edge of Santa Monica. Their tents line the small grassy hills between the sidewalk and sand. Stuffed sleeping bags, shopping carts, signs and bedding made from cardboard. You almost wouldn't know how much this place has changed recently.
The SUV's lights stay on, illuminating the scene as Sris Sinnathamby, the owner of the Cadillac Hotel, steps out of the passenger side. He's followed by the driver, identified by multiple witnesses as Francisco Cardenaz Guzman. Guzman is known to the police as a member of the Venice 13, a gang with ties to the Sureños, who control the local drug trade. He has been arrested many times, for gun possession, robberies, and car theft.
Sinnathamby and the man identified as Guzman have just returned from the James' Beach bar, a five-minute drive down the street. Sinnathamby walks up to the homeless man and tells him to get away from the front of the hotel. A security camera at a nearby café records the scene.
Sinnathamby is not like Guzman. He was born in Sri Lanka and came to the US in his twenties. According to the LA Weekly, he happened to be passing through Venice 25 years ago when he ran out of money. He took a job cleaning hotel rooms at the Cadillac, then worked his way up to manager. When the owner retired, Sinnathamby bought the place from him. It's not fancy, but it faces the ocean, and pretty or not, it has dramatically risen in value in the past decade.
The run-up in real estate prices has been driven in part by the explosion of tech companies along the beach on the west side of Los Angeles. Google, Snapchat, Hulu, BuzzFeed, YouTube, Netflix, and Facebook have overtaken an archipelago of properties, bringing an influx of programmers, sales executives, and the refined retail that follows such massive migrations of well-paid people. They call it Silicon Beach.
The homeless don't necessarily mind the newcomers, but the newcomers mind the homeless. Sinnathamby is not one of the newcomers, but they have been very good for his business interests. In addition to the Cadillac, Sinnathamby owns the gourmet eatery Dudley Market, a parking lot on Ocean Front Walk, and other Venice properties. Sinnathamby again tells the homeless guy to get moving. The man rises and shuffles toward the boardwalk, 20 feet away.
The beach used to belong to the people. Now it's illegal to be here from midnight to 5 am. In fact, a 2012 law designated the boardwalk part of the beach, making it illegal to sleep on the boardwalk as well. The justification was public safety. Homeless advocates have filed lawsuits challenging the ordinance. In the meantime the homeless feel harassed, people always kicking their feet, telling them to move. Venice is a place with a long history of art and activism and, now, a flood of wealth. Tempers run high on all sides.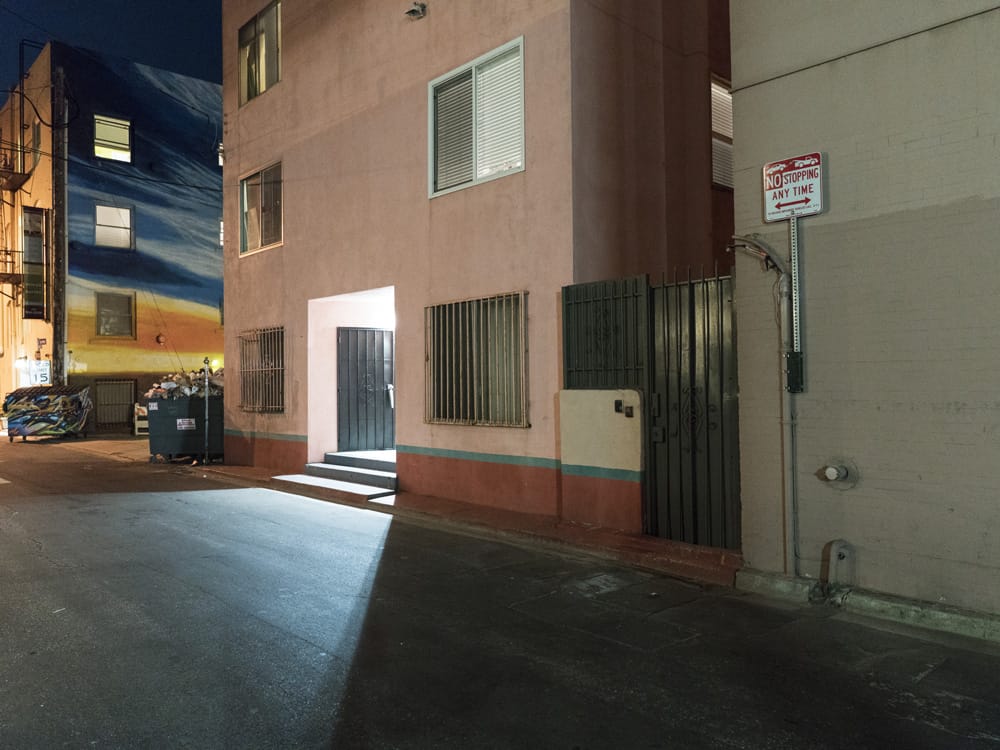 Sinnathamby's efforts to move the homeless man attract the attention of a group of nearby boardwalk denizens. "Leave him alone," says Shakespeare, a 26-year-old rapper and poet who frequently sleeps on the boardwalk near the Cadillac. Sinnathamby walks over to him, passing a man pushing a cart, who exchanges greetings with Sinnathamby. Everyone knows each other.
The homeless have been drinking. They had a party earlier on Hippie Hill, a mound of grass nearby, to celebrate Shakespeare finishing a new recording. Maybe it's the booze. Maybe it's the heat. Or maybe it's the money. Rising property values have unpredictable effects on community relations.
Shakespeare argues with Sinnathamby, insisting the man has a right to stay on the sidewalk. But then Guzman, who has so far hung back on the boardwalk by himself, suddenly pulls out a gun and fires four shots down the beach. Shakespeare gets even more agitated, gesturing toward Guzman as if to challenge him. Sinnathamby stands between the two men, keeping them apart. Guzman waves his gun in a threatening manner.
Two women, friends of Sinnathamby who were waiting in the SUV, now get out and walk over to him. He turns to the women, and as he does Shakespeare shifts to his right. Guzman notices Shakespeare making his way around the women, and Shakespeare uses the moment to lunge at Guzman. Guzman shoots him three times, stepping aside like a bullfighter as Shakespeare falls past him, exiting the frame of the surveillance video. Guzman waits for a moment, then gestures for the women and Sinnathamby to come with him. But they stay. Finally Guzman runs to the SUV and drives away. At least that's how it all appears on the video.
The ocean is as calm as a sheet of paper.
2
THE JOURNALIST
Nine days later, I arrive in Venice. I move into a small two-bedroom with a roommate on Pacific and Breeze, one block from the beach, four blocks from the Cadillac. It's ferociously hot, and like most places this close to the ocean, this one has no air-conditioning. I have a small carry-on bag with me, a pair of jeans, two T-shirts, a pair of shorts. No return ticket.
On the boardwalk near my apartment, some people and local community organizations have erected a memorial for Shakespeare at the base of one of the boardwalk's pagodas—the usual candles and flowers, a pink bow, a poster signed by his friends, a framed picture of Shakespeare in a tan jacket, a stuffed panda bear. A group of homeless men and women lounge in the pagoda, one of only a handful of slivers of shade.
I've been sent here to figure out why Google has moved into so many buildings in the area, why there are so many accelerators and shiny new office-sharing facilities. Snapchat chose Venice over Silicon Valley and is now valued at $20 billion, with more than 800 employees. What is happening here? That's my assignment.
I'm not a tech reporter; I don't have any particular expertise in real estate. I'm 43 and I've lived a lot of lives. I've been homeless. I've worked for a startup. I've sabotaged myself and my relationships and been fired many times. I've been ripped off and overpaid in equal measure. I've overdosed, worked in politics, fund-raised, hosted, waited, bused, Kickstarted. I was a dedicated climber, until I wasn't. I spent a season snowboarding, living on a mountain. I spent three months in a mental hospital when I was an adolescent and 14 years later taught undergraduate creative writing at Stanford. I've said "I love you" more times than I've actually been in love.
Venice has lived a lot of lives too. It was conjured into existence by Abbot Kinney, a wealthy tobacco magnate from New Jersey, who in the beginning of the 20th century won the swampland south of Santa Monica in a coin toss with his business partners. Kinney was determined to build his own version of Venice, Italy, the floating city he fell in love with on one of his many trips abroad.
Kinney brought architects and engineers from Boston; he hired laborers to build miles of trenches and an amusement pier, lecture hall, and boardwalk. On June 30, 1905, ocean water began flowing through two enormous pipes at a rate of 500 gallons a second, filling the canals. Venice of America opened on July 4, 1905. Kinney hired the best lecturers and performers of the time, including Sarah Bernhardt and symphony orchestras. By 1910 Venice had more than 3,000 residents and was drawing 50,000 to 150,000 tourists on weekends.
Kinney died suddenly in 1920. Without him, Venice foundered. Half of the canal developments remained unfinished; the piers burned multiple times; the city couldn't maintain its own infrastructure. In 1925 Venice voted to join Los Angeles.
The city paved over most of the canals in anticipation of the great automobile influx. Then, like a neglectful parent, Los Angeles turned its back on Venice. By the 1950s the area had become known as the Slum by the Sea. In the late '50s, drawn by the cheap rents and the ocean breeze, the artists started arriving. Dennis Hopper opened a studio, along with Ed Ruscha. There was an explosion of poetry and art as the Beat Generation settled in. The Beats were joined by the flower children. Venice was brimming with bohemian creativity. Janis Joplin showed up in 1960. Jim Morrison lived in the sidewalk villages, partying and writing poetry on various rooftops near the ocean. When Morrison met Ray Manzarek on Venice Beach, he told Manzarek, "I was taking notes at a fantastic rock-and-roll concert going on in my head,"
Venice was the Greenwich Village of Los Angeles, where the '60s first blossomed in Southern California—like Haight-Ashbury in San Francisco—before the speed epidemic, before Altamont, before Charles Manson started killing people in Beverly Hills and Los Feliz. It's where people came to drop in and tune out. But the hippies and the artists weren't the only outsiders flocking to Venice. It's also where Arnold Schwarzenegger and Franco Columbu came to get huge at Muscle Beach. And it's where the Z-Boys took skateboarding mainstream in the abandoned Pacific Ocean Park. It's where Suicidal Tendencies combined punk rock and heavy metal and where Jane's Addiction created the bridge between alternative and rock and grunge bands like Nirvana.
Venice is like that kid who overcommits to everything. She comes to college, joins the cheerleading squad, dates the quarterback. By her senior year she has tattooed her face, gotten 18 piercings, and occupied the administration building. A few years later she's living in a commune eating only raw food. Then maybe she finds religion or joins a cult or has a child. You could argue she's never had anything but religion. She's a believer and when she believes in something she believes in it all the way.
ILLUSTRATION FOR SIMULATED MURAL BY YUKO SHIMIZU
I spend a week mostly swimming in the ocean and eating pizza on the boardwalk, surrounded by souvenir shirts presenting dreadlocked skeletons smoking joints with a smile. I read Geoff Dyer novels purchased at Small World Books, observe the bodies at the famous outdoor weight-lifting gym just outside, watch surfers and skateboarders, try to empty myself out.
I try to avoid doing anything, until someone eventually suggests that I contact Mona, one of the largest landowners in the area. Says I won't believe it. He lives on Electric Avenue, near the intersection with Venice Boulevard. Stepping into Mona's house, I'm struck by one of the strangest sights I've ever seen. An array of 17 televisions in the living room, all tuned to different channels, with the volume low but not all the way down, creates a cacophony of voices across the spectrum—liberal commentators competing with conservatives competing with children's programming. I take the seat across from Mona, with my back to the screens.
Mona has spindly legs and long feet, wears pink pants, a dark pink ballerina top, plastic sunglasses, and a blond wig. He's not transgender or transvestite or gender-queer. "I'm not a girl, but I'm not a man either. I'm both. I think they both suck."
Mona says he's been here since 1969, but everybody seems to think he's been here longer. He started buying property around Venice in the '60s, back when his name was Roger. He owns more than 40 properties, including office space on Windward Avenue, warehouses, and a 14,000-square-foot building he lived in for years.
When Google decided to open offices in Venice in 2010, it moved into the binoculars building, designed by Frank Gehry, on Main. I pass the building almost every day, with its famous sculpture of a pair of matte-black binoculars 45 feet high pointing straight down into the sidewalk. For a company predicated on helping people find things, it's a bizarre choice, leasing a building framed by binoculars that can't see.
As Mona's friends tell it, the binoculars building wasn't big enough. Google also wanted to rent one of Mona's properties, the old Gas Company Building on the same block. Mona offered to rent the building to Google as long as he could keep his office there. Google balked. The search giant didn't want Mona in its Los Angeles headquarters.
OK, Mona said. I'll rent to someone else. Local sources told me that Google executives expected Mona to cave until they learned he was talking to other potential tenants. Google now rents Mona's building on Mona's terms.
It's the middle of the day. Mona drinks straight vodka without ice from a plastic cup. The house looks like a thrift store, but weirder. Racks of old clothing fill one room and spill into another. He talks fast, a strange stream of words that comes at me so quickly, I have trouble making sense of what he's saying.
He says, "Distraction is a good thing. It must have something to do with longevity and function. Everybody should just promote distraction at every level. I can't tell you, there has to be some risk. If you follow the course and logic of sensibility, I mean right there you're sunk. You know what I mean?"
I have no idea what he means. Trying to get on track, any track, I ask Mona about being a landlord in Venice. He says, "I'm not a landlord."
"You're not?"
"I'm not a Negro either. I'm not a cross-dresser and I'm not a transsexual and I'm not gender-queer. I don't want to be any of those things, and they're all abusive. Remember the word hippie? It was a very pejorative word about unkempt people who didn't seem to take life seriously and were probably for whatever reason following some ideology that was pointless and would soon blow away."
"So landlord is pejorative?"
"Landlord is boring, and don't say it again in my presence. I don't like it, so don't use it."
But Mona is a landlord with many properties and renters. He's also a developer with many employees. I wonder how anybody works for him. I've been told you can't understand Venice without understanding Mona. But Mona is incomprehensible. Mona is supposed to be the bridge between the old Venice—dropouts and surfers and freaks—and the new Venice of technological innovation. When I think of Mona as a bridge, all I can think of is the Tacoma Narrows Bridge, caught dramatically on film, its concrete and steel twisting, fluttering along its node in 40-mile-per-hour wind. People remember the bridge from high school physics class, the incredible sight of something sturdy becoming flimsy, an instantaneous transformation. But what people seem to forget is the lone scientist who knew that the wave oscillating the bridge had a stable point in the middle. And he knew he could walk safely out onto the bridge, which he did for a bit, returning before the structure collapsed into Puget Sound.
Mona is so difficult I can only bear to talk with him for 35 minutes, though later, when I listen to the tape, I find him surprisingly coherent and insightful and something of a poet.
"There is no history of Venice," Mona says. "Nor should there be. Everybody should shut up and stop talking about Venice. Everybody thinks they're clarifying something when all they're doing is selling the hype."
4
THE SALESMAN
The TrueCar office is located at the corner of Broadway and Second in Santa Monica, on the northern end of Silicon Beach. TrueCar has outposts in San Francisco and Austin, but it has chosen to make this its headquarters, with a view of the ocean and the Santa Monica Pier. Large desks. Soft, balsa-wood-encased lighting.
I'm met by Neeraj Gunsagar, executive vice president and chief revenue officer. Neeraj is responsible for growing revenue and all profit-driving functions. He's handsome and well dressed. We stroll past outdoor lounges and through a group of programmers into his office, where we're joined by a public relations person named Alan Ohnsman.
TrueCar went public in May 2014. "We're a data-driven car-buying and selling mobile marketplace," Neeraj explains. "There were 17.2 million new vehicles sold this year in America. There were 38 million used vehicles sold. The market is well over a trillion dollars."
Neeraj explains that TrueCar is a CPA model. Cost per action. In other words, TrueCar gets paid by car dealers to introduce the dealers to buyers, but only if they actually sell a car. He says we're moving away from the old Internet—cost per click—into a more exciting, target-specific environment. "There's no risk to dealers," he says. "TrueCar isn't focused on pageviews, it's not an advertising model; in fact there's no advertising on the site."
"So what exactly is your article about?" Ohnsman asks.
I think about Shakespeare's murder on the boardwalk. The other morning I jumped into the ocean. The water had been warming all summer and it felt perfect, but the tides were angry. It was early, and as I waded out I looked toward the surfers up the coast in Santa Monica, framed by the Palisades. I felt the undertow slip its fingers around my ankle, pulling me under a wave and farther from shore. One moment the sand was beneath me, soft and silty, and then it was gone.
I swam forward as the waves crashed over me, allowing myself to be pulled back a few more times. Like an exercise machine. Like the treadmills and stair-climbers a few blocks away at Gold's Gym, the "Mecca of Bodybuilding."
Ohnsman and Neeraj are waiting for an answer.
"I don't really know what it's about," I say. They nod thoughtfully.
"I was raised in Silicon Valley," Neeraj says. "My father moved there in the '60s and was part of the initial, true Silicon Valley. I was born right next to Apple, in Saratoga. I went to Berkeley. Silicon Valley has become a very efficient creator of technology enterprises with all the venture capital right there and several generations of entrepreneurs. It's a well-balanced system. Compared to Silicon Valley, the Los Angeles tech scene is the Wild West."
We talk about Los Angeles. We talk about the heat. We talk about the changes in the neighborhood. Something is happening here. What is it? It's becoming a technology hub. Perhaps even the second largest in the United States. Perhaps the fifth largest in the world. "Why not?" Neeraj asks. LA has lots of great universities. Southern California has long been home to the aerospace industry. There's talent here. "Los Angeles graduates more engineers than it keeps," Neeraj says. To him, Los Angeles is like a tree, the fruit hanging from its branches easily within reach. The question isn't why is technology moving to Los Angeles but, rather, why be anywhere else?
It's something I've been hearing a lot recently: People are moving here as a lifestyle choice. "People want to live in a city," Neeraj says. "Los Angeles is a diverse city. If you go to a party in Los Angeles, you might meet an actress. But you might also meet someone who works in avionics, a manufacturer. San Francisco is a one-industry town. You don't meet anyone outside of the tech bubble, and that makes it hard to realize what real people want. They're making apps for themselves; in Los Angeles, companies are building technology people use. The Los Angeles metro area is as big as Mexico City."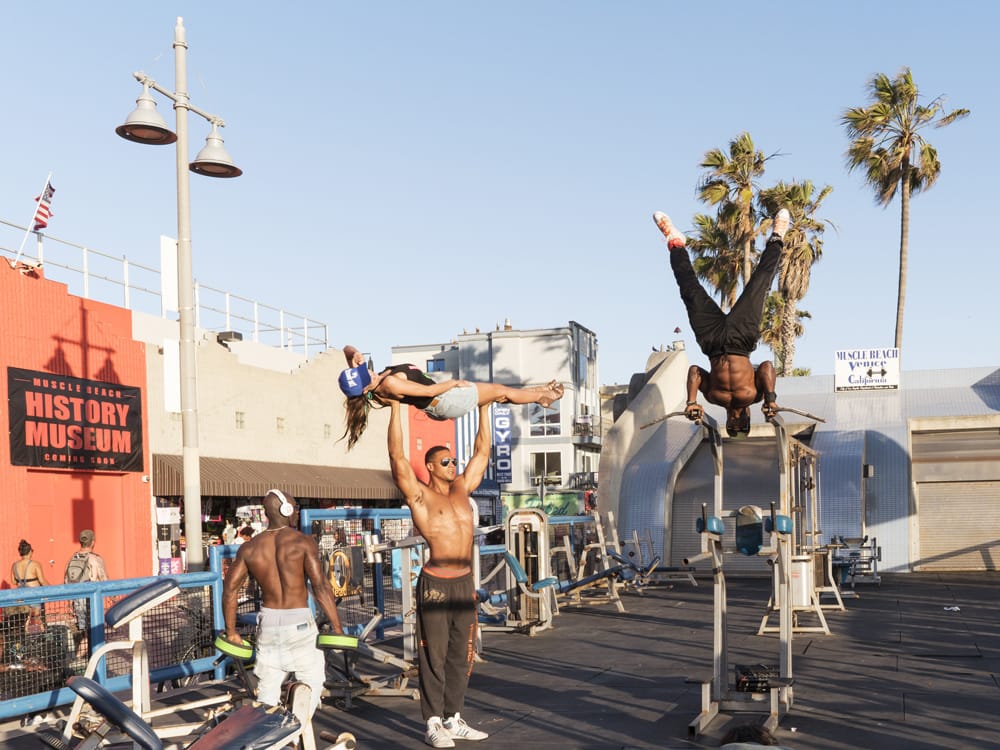 Of course, Los Angeles is perhaps the most famous one-industry town in the world. The manufacturing sector has been obliterated. People in entertainment don't hang out with avionics engineers. Although when the original moviemakers arrived, it was a kind of lifestyle choice for them too, settling on the western edge of the country, where there were 300 days of sunshine a year for shooting and Thomas Edison's patents were harder to enforce.
I mention the advent of self-driving cars. Neeraj dismisses it with an easy smile, waving his hand as if he were sitting next to a smoker. "Most of these innovations are safety innovations. But cars aren't going anywhere. We're currently seeing the best car market we've ever seen. Ownership of a vehicle is the cornerstone of being an American."
"Do you own a car?" he asks.
"No," I say.
Neeraj cocks his head and picks up the thread of his thought, gesturing at the flotilla of engineers at their desks crowding the expansive floor beyond his office. "I have a great team," he says. "A group of young guys who just kill themselves for this. To solve this one problem. Really smart people who love the challenge."
"The challenge of helping people buy a car?"
"A $1.2 trillion auto market this year. There are millions of permutations of auto vehicles. Connecting these permutations to a consumer is an amazing challenge."
"So you're just helping people buy cars?"
5
THE PARAMOUR
Andrea (not her real name—some details have been changed to protect her identity) sits on the screened-in patio at a café on the northeastern edge of Santa Monica where she lives. She's tall and olive-complexioned with short copper hair. As I approach she closes a mathematics textbook. She is considering going back to school for an economics degree. Andrea and I are old friends, and it turns out that she had a relationship with Sris Sinnathamby, although they haven't been in touch in years.
"He helped pay for my school," Andrea says. She needed the money. "We hung out and went to dinner and slept together. Sris has a lot of money. Like, he had multiple people to take care of his dog, even though he had a custody arrangement for the dog with his ex. He doted on his dog, but I didn't like how he treated other people. He always wanted employees to make exceptions for him." Andrea thinks Sinnathamby was classist. She says she stopped seeing him because his attitudes made her uncomfortable.
"When we were dating he took me out for dinner one night. We walked past a giant construction site. It took up the entire block. He spread his arms and bragged, 'All of this belongs to me.'"
"What about the homeless?" she asked.
"They have to go," he replied.
Sinnathamby's lawyer, Alan Jackson, declined requests for an interview with Sinnathamby. But Jackson says that his client doesn't own anything fitting the description of an entire block.
The night Shakespeare was killed, after Guzman took off, the homeless who had been celebrating with Shakespeare attacked Sinnathamby. Derick Noralez, whom everyone called Bigz, threw Sinnathamby to the ground. A disabled man beat Sinnathamby over the head with the footrest of his wheelchair. They beat him so badly that he ended up in the hospital with a broken collarbone and eye socket. At the hospital they put 24 staples in his head.
Multiple witnesses told the police they heard Sinnathamby telling Guzman, "Kill that nigger." But if you watch the surveillance tape the witnesses' account of Sinnathamby instructing Guzman to kill Shakespeare seems hard to believe. The witnesses are 15 feet away, and Guzman is on one side of Sinnathamby, with Shakespeare on the other. He doesn't appear to be yelling, so even if Sinnathamby said something, it seems unlikely the witnesses would have heard it.
The police didn't arrive on the scene for more than half an hour. When they finally showed up they arrested Sinnathamby on murder charges then took him to the hospital. His bail was set at $1 million, which he posted. His passport was confiscated, and he had to wear an ankle bracelet. The men who beat Sinnathamby weren't charged.
The merchants along the boardwalk say Sinnathamby is part of the community, that he knows how to get along with the homeless like any boardwalk merchant has to. The homeless are a part of the place. When it was suggested several years ago that a private security guard be hired for the area, Sinnathamby organized a meeting at his hotel and argued against the idea.
After meeting Andrea I re-watch the video from the night of Shakespeare's murder. There's Sinnathamby talking with someone carrying a sleeping bag. Then Guzman strolls into the center of the screen, wearing basketball shorts with his hands clasped behind his back. Sinnathamby moves toward the right of the frame, where he's speaking with someone off-camera. Guzman follows, casually pulls a gun from his shorts pocket, and fires four shots toward the water.
Fifteen seconds later Shakespeare and Sinnathamby re-enter the frame. Shakespeare is agitated, pointing at Guzman, who is still holding the gun. Sinnathamby positions himself between the two men. It looks like Sinnathamby is alternately trying to hold Shakespeare back and get Guzman to put the gun down. At one point, he approaches Guzman with his arms out, as if to give him a hug. But Shakespeare follows and Sinnathamby turns to push him back.
Suddenly, Guzman closes the distance between them. Then Shakespeare gets around Sinnathamby and charges Guzman, actually leaping toward him. Guzman sidesteps, firing multiple shots at Shakespeare at close range.
Guzman leaves, gesturing for Sinnathamby to follow, but he stays.
Sinnathamby is possibly the hero of this complicated story.
ILLUSTRATION FOR SIMULATED MURAL BY PEP MONTSERRAT
Danny Zappin arrived in Los Angeles in 2004 after spending two years in the federal penitentiary in Lompoc. He had four months left on his sentence—he'd been convicted of smuggling ecstasy—and the court agreed to let him serve them under house arrest at his friend Paul's place, on Martel near the corner of Sunset and La Brea in Hollywood.
It was a rough part of town in 2004, but Danny didn't get to see much of it. He was only allowed out of Paul's house for his drug tests and to work as a valet in Beverly Hills. Before going to prison, he was an aspiring actor and filmmaker. He'd been to film school in South Florida in the '90s and shot music videos for college bands using his Canon XL1, one of the first affordable high-end digital video cameras.
The view from the window at Paul's place was of a city without seasons. Danny could see the streets that had always lured would-be stars and starlets, but he was forbidden from interacting with them. Danny wanted to be a star, but he was a convicted felon lacking connections. He had hundreds of hours of footage he'd shot, but no way to get it seen or distributed. Before he'd gone to prison he would show stuff to friends; he'd been in a few small festivals.
By 2005, still under house arrest, Danny had gotten his first email address. He began to live his social life online. He found MySpace, the website people thought might connect the content in Los Angeles with the technology of Silicon Valley. And maybe it did, because MySpace led Danny Zappin to YouTube, which became an obsession.
YouTube was just months old when Danny started uploading music videos and clips from his director's reel. He re-edited and mashed some of it together. The response was overwhelming. YouTube was growing fast but was lacking original content. Viewers left comments telling him what they wanted. He wrote comments back that were playful, funny. He made a video of himself goofy-dancing, challenging his fans to dance worse. There were hundreds of comments. He called himself Danny Diamond. His YouTube channel was called the Diamond Factory. Danny had always wanted to break into Hollywood, but on YouTube, unlike in Hollywood, you didn't have to audition. It was exhilarating to have access to a global audience and upload stuff and just see the views go crazy. You could build a following and lots of subscribers, distribute work directly to a wildly enthusiastic audience of your own creation.
As his mandatory home confinement ended, Hollywood still seemed out of reach, but that didn't matter anymore. He'd left Hollywood behind without leaving his room.
Now I'm sitting across from Danny, under a gigantic peaked skylight, in a conference room that used to be an art gallery. He has short red hair and a certain mischievous look to him. There are 12 large paintings hung high on the walls above us, including an orange portrait of Frida Kahlo, a sharp blue and gray graphic, and two colorful squares by the spray-paint artist Ricky Watts.
"I was a power user in the early days," Danny says. "I knew how to tag, title, get on a list, engage the audience through comments. I was obsessed and excited and creating content and music videos."
Soon after his sentence ended he moved in with his girlfriend Lisa Donovan in Venice. Venice was more Danny's style. So much had changed since Abbot Kinney's attempt to re-create the Italian city. Kinney had hoped to build a refined, high-culture playground for the upper class. His resort was an instant success, but the crowds weren't there for the symphony orchestras. Instead they flocked to the freak show amusements and carnival rides, while the concert and lecture series held in his Chautauqua-like assembly hall lost $16,000 its first summer. It was known as the Coney Island of the Pacific, a place of low culture and high times.
Over the years, as Venice became a bastion for outsider artists, many of the painters and sculptors associated with the legendary Ferus Gallery did their work in Venice. The spaces were large and the ocean was close. Abbot Kinney looked at a swamp and decided he could make stuff here. And people kept following Kinney's crazy dream with crazy dreams of their own.
It made all the sense in the world for Danny to head to Venice, a place of outsiders, a place where you made things. He was an actor and filmmaker, but he had no access. For Danny, and many before him, serious artists didn't stand in front of a Hollywood studio waiting to be let in. They went to Venice instead.
"Venice was much edgier in those days and had not been gentrified," Danny says. "Police helicopters were constantly flying over my neighborhood. Gang violence was still a big issue. There was no Silicon Beach or any tech scene to speak of. I liked the grittiness and artistic edge. It felt more real than Hollywood, and I found the people to be far more interesting."
Lisa and Danny started making videos together, and Lisa's channel exploded. What Danny and Lisa wanted wasn't really any different from what more mainstream performers want: validation, access, power. And then an idea occurred to them. Couldn't they team up with other YouTube power users?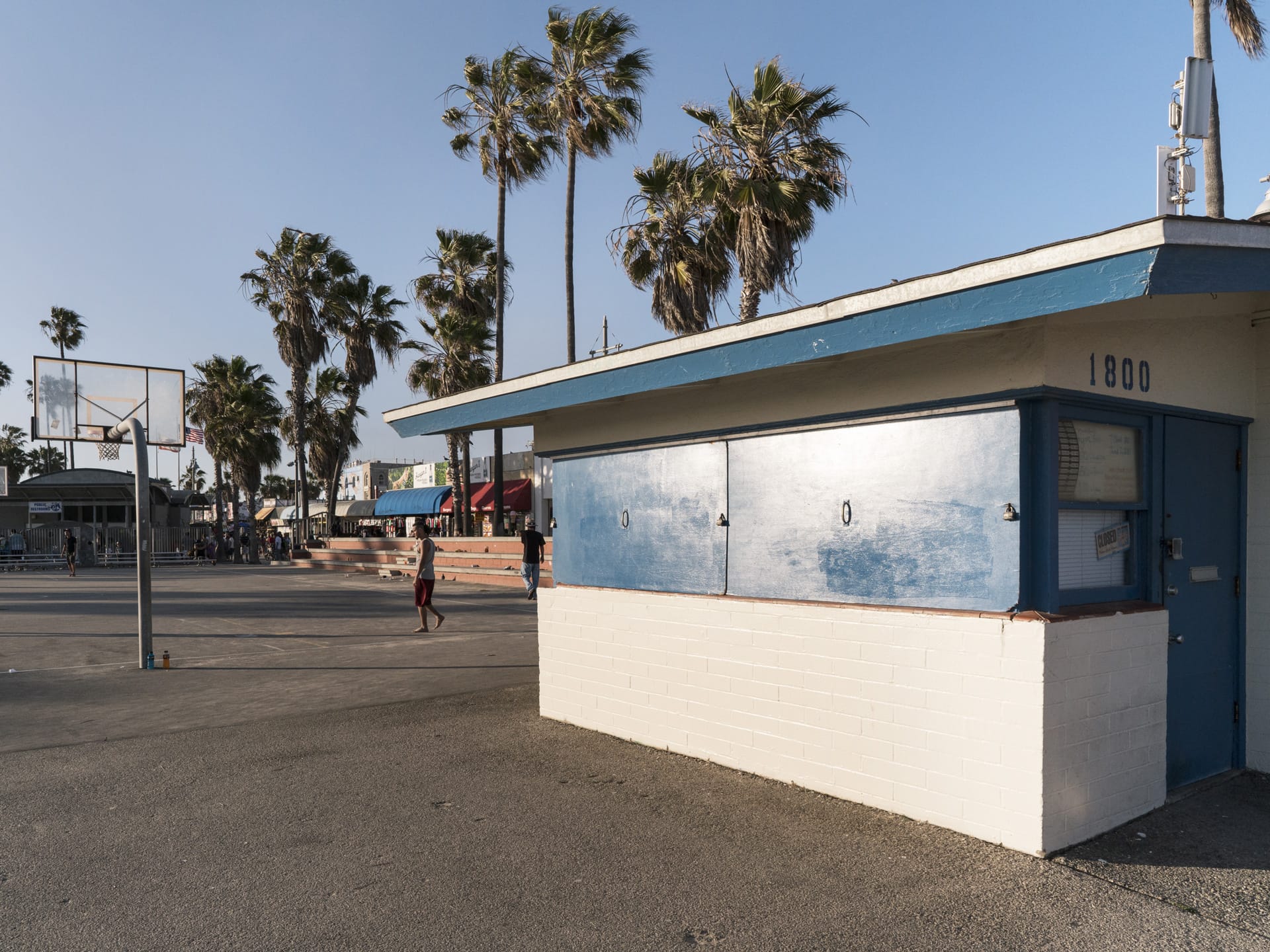 "We got to know all these people from different parts of the country, and some of them came to Venice to visit, and it became clear that to do this well, you sort of needed some infrastructure," Danny says. "It didn't make sense to have every person working for themselves and maintaining all the costs of their own channel. So we came up with the idea of creating something like a studio to help people create content and integrate operations and bring in brand deals and everything."
They lived in an apartment just off Abbot Kinney Boulevard. Other YouTube performers started arriving in Venice to work with the nascent studio, which they dubbed Maker. "We had a lot of the top stars at the time, and they all worked together blowing up new people like Kassem G and Shay Carl, HiimRawn and Pete and Epic Rap Battles, Nice Peter," Danny says. "And by getting these people with a half a million subscribers to recommend new talent and collaborate, we created the biggest, fastest-growing channels."
Maker was the first huge YouTube success. To keep growing quickly, it accepted venture capital. That's when the thrilling rebel adventure started to come apart. The investors decided they didn't want Danny as CEO, citing his felony conviction. Fights erupted between the studio and the talent, most noticeably with Ray William Johnson, possibly Maker's biggest star, who accused Maker of trying to strong-arm him into signing away the rights to shows he created prior to joining the studio.
Ultimately Danny got pushed out, or depending on who's telling the story, he resigned. There are lawsuits still pending. He split up with Lisa. Maker was sold to Disney for half a billion dollars. Danny walked away with a reported $25 million.
Now Danny owns Zealot Networks. Its offices are across Venice Boulevard, a short walk from Mona. Danny lives in a nice house on one of the neighborhood's remaining canals. When the city tried to fill in all of the canals after annexing Venice in 1925, there wasn't enough of a tax base to pay for the work. Ironically, the remaining canals have become among the most desirable places to live in Venice.
Danny's new art is buying companies. In Zealot's first year it bought 18 media companies. The onetime felon, who gleefully made dancing videos to share with his fans, is now looking for a bigger piece of the nut. Danny's story is something like the story of the new Venice, the artist who becomes rich. Or the outsider joining the establishment, like the Venice artists of the '60s and '70s whose art soon hung in the museums they rebelled against. You're only an outsider for so long.
7
THE GUN FOR HIRE
I drive south from Venice, past the Marina. Past Playa Vista, where shining skeletons of the new Facebook offices are rising from the marsh under the planes thunderously approaching LAX and then heading on to El Segundo. I'm not sure what I'm hoping to find. I feel like some kind of holistic detective, sifting through evidence, trying to piece something together without knowing the crime I'm trying to solve.
Some people think El Segundo is still part of Silicon Beach, though it seems awfully far away. Borders are not always so easy to define, until you cross one. All I know is that El Segundo was established as Standard Oil's second refinery on the West Coast. Now it's a warren of eight-lane boulevards and faceless office parks, pressed between the ocean and hills covered with slowly swinging derricks.
I park at a monstrous cube of glass—one of a dozen in sight—and take the elevator to the eighth floor to meet Chuck Davis, the CEO of Swagbucks. This is a company that offers rewards for buying things online. Previously Chuck led Disney's online business group. He says Swagbucks never had an issue finding technical talent in Los Angeles. "The bigger problem was the investors," he says. "They were all up north. They wanted us to be in Silicon Valley."
Chuck's stint with Disney Internet Group lasted four years. He helped with online shopping and travel, sales, subscriptions. "They hadn't created the word ecommerce yet," he says. Chuck moved over to Shopzilla, which sold to Scripps. After that he joined Fandango, which had been operating in the same building. He left one rapidly expanding company for another. Fandango sold to Comcast, and Chuck stayed on board until a few months after Comcast was acquired by NBC Universal. "I believe as CEOs we rent our roles," Chuck says. "We're here to do an assignment, create value for the investors."
It makes me think of a baseball player, casually approaching home plate, thinking about getting back to his family, ready for the game to be over. Or any time our passion leaves us. We rent our roles.
It reminds me of a woman I was in love with. It wasn't too long ago. She was living with one of her clients, but he was out of town for a few days. He was worth hundreds of millions of dollars. They lived in a mansion and had a view of the Golden Gate Bridge that looked like a picture sold to tourists. She had long arms and legs and moved with an uncanny grace. Men had ghost-written memoirs for her, signed over apartment complexes, cowritten her dissertation. In the mansion, there were two boxes of drugs, carefully organized and labeled—ketamine, cocaine, moon rocks. There was a new Tesla parked in the garage. And I remember we took acid and sat on a bench down the street from the mansion. And I realized, through the haze of drugs and desire, that no matter how long I stayed, ultimately I would have to leave; that I wasn't jealous of the men she loved for free, I was jealous of the men who could afford her.
ILLUSTRATION FOR SIMULATED MURAL BY LAUREN TAMAKI
Meredith Perry just turned 26. Her company is called uBeam, and it's trying to build a device to make electricity wireless. Not like those pads you put your phone on for charging; more like Wi-Fi for electricity. "Power. Always. Anywhere," the uBeam website promises. In 2014 Mark Cuban, Marissa Mayer, and Andreessen Horowitz, among others, invested $10 million in Meredith's company.
What's interesting to me about uBeam is that it will be a new technology—if it works. Other startups, like TrueCar, are just creating digital updates of services that have been around for decades—lead generators, coupons, catalogs. But sending electricity through the air is something scientists and engineers have been trying to crack since Tesla (Nikola, not Elon).
The uBeam headquarters is on Main Street in Santa Monica, less than a mile from TrueCar. The doors are thick steel, the kind you could imagine in the basement of a bank or an intelligence agency. A publicist walks me back to meet Meredith. The office has three labs, a machine shop, and a wall of glass enclosing a work area. There is an air of secrecy and a lack of windows. I'm not allowed to take pictures.
We sit at a table in her office. I sit cross-legged on the couch and she sits in a chair. In her sweater, sneakers, and jeans she looks and sounds like a college student: smart, young, and overflowing with enthusiasm.
She starts by trying to explain what an ultrasonic transducer is. Effectively a little transmitter, like the ones used in sonar detection. Somehow, her transducer creates a high-frequency sound wave, which a receiver converts into electricity. The receiver could be built into something like a cell phone case.
Meredith tells me, "I think the reason I can tackle complex technology is because I'm good at breaking down complex problems and explaining them to other people."
I nod, but I still don't actually understand how an ultrasonic transducer works.
"My approach has always been top-down," Meredith says. "I get interested in crazy complex scientific problems, then I learn everything I need to know in order to solve them. Part of that is ADD. I don't want to have to go to four years of electrical engineering school." People around here often talk about ADD. Maybe it's an age thing. Though Danny Zappin is probably my age, and he mentioned it.
Meredith grew up in Princeton, New Jersey. Her father is a plastic surgeon who, she says, developed the world's best skin creams. Her mother was a child psychologist. "My brother is a comedy writer named Penis Bailey," she says. "He's going to be famous. And my sister is a private investigator."
"What's your brother's name?" I ask.
"Penis Bailey," she repeats.
"As a kid, I was curious," she continues. "I asked a zillion questions. I was that annoying person where, anything you said, I'd be like, 'But wait! Why? Tell me how that works!' And my father just kept answering. He always had the answers."
Meredith takes a bag down from the shelf near her desk. "I have like a zillion notebooks, little colored notebooks with all my inventions. My grandpa and I used to write letters back and forth on invention ideas."
She takes out a notebook. She says she filled them with ideas while she was in college at the University of Pennsylvania, where she studied astrobiology. The notebooks detail inventions like a jacket that's also an air bag, for people riding motorcycles. Or a tactile gaming vest, so if you were playing a video game and somebody punched your avatar, you could feel the punch in your own chest. There are designs for an umbrella to use while riding a bicycle and a touch-simulation back massager.
Like so many other founders, she says she chose Southern California over Silicon Valley for the quality of life. All the tech people in LA seem to be in agreement on the high standard of living and cheap rent.
"Los Angeles is a city of entrepreneurs," Meredith says. "Here you form a production company and you pitch your movie to a producer and that's your project. There's a lot of entrepreneurial DNA in this town. It's an inspiring place to be." She's 26 years old and she's lived here a year and now she's explaining the city's sociology to me. People say she's a genius, but what does that even mean? I was at a party at Sundance once with James Franco's manager and his wife. His wife introduced me to someone as a genius. Then she introduced me to 10 more filmmakers and writers, all geniuses as well. If there is one place where being a genius means nothing, it's Los Angeles.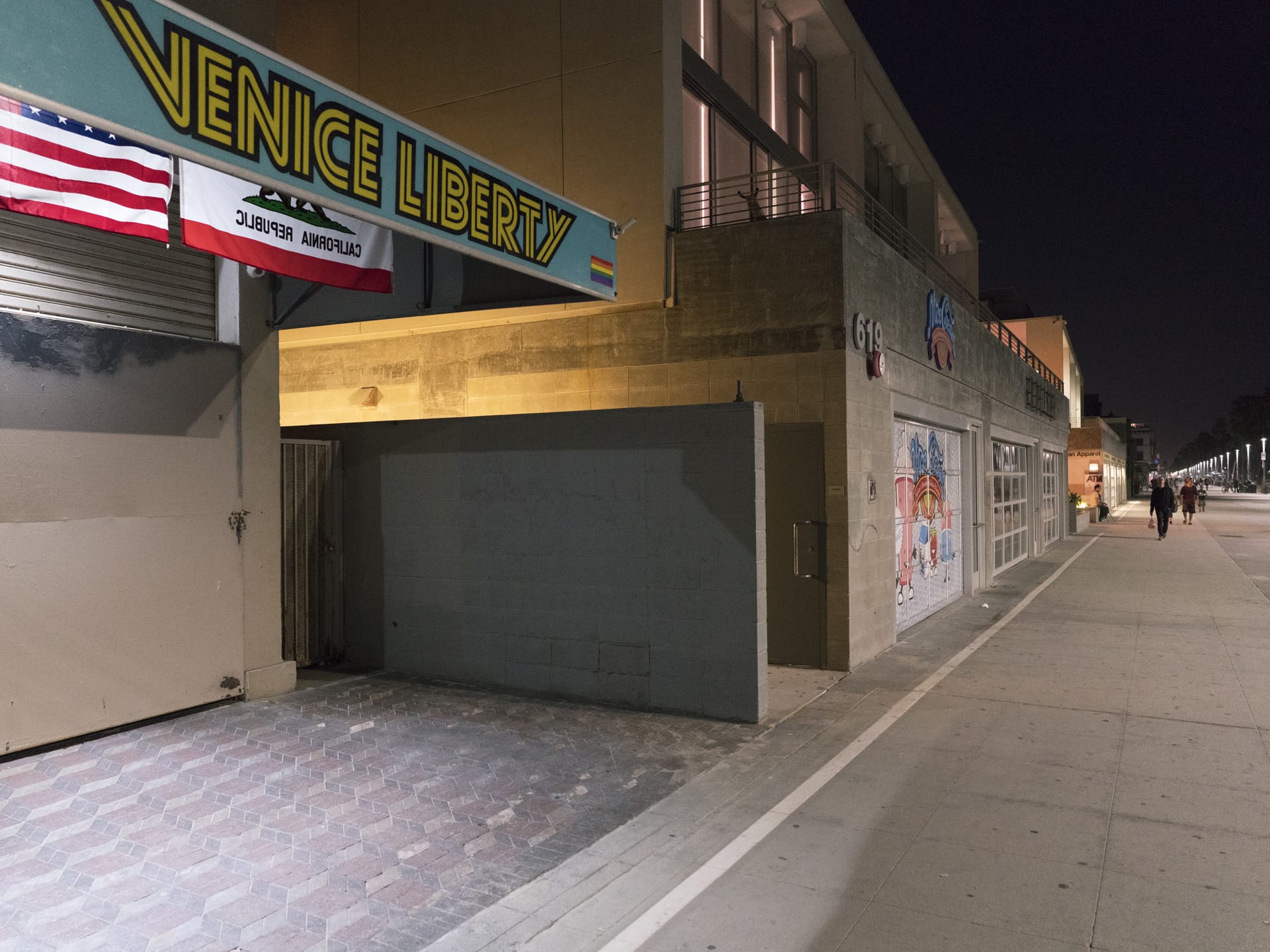 Meredith takes me for a tour of the office. For a hot company with tons of funding, it's surprisingly underpopulated. In the hallway there are a handful of employees tapping on laptops at a long table, but most of the rooms are empty. She gives me a tour of workshops full of hardware, but there are no engineers. She shows me the progressions of prototypes, with tiny silver caps inside. These are the new, smaller ultrasonic transducers, less like bullets and more like flat birdshot. In the largest workshop, back near the entrance, we stand around the workbench, just me, Meredith, and the publicist.
9
THE PUBLICIST
A couple of weeks after talking to Meredith I get a call from one of her publicists.
"Meredith has been getting a lot of bad press recently, and we don't think she should be in your article at this time," she tells me.
"It's too late," I tell her. "Anyway, I think Meredith is a genius."
A few days later another one of Meredith's publicists calls me.
"You misled us!" She's practically screaming. "You said you were writing about Silicon Beach, but I found out you interviewed Mona. Mona has nothing to do with technology." The publicist says Meredith is being compared to another young female entrepreneur named Elizabeth Holmes, and it's not fair. I'm baffled because I have no idea who Elizabeth Holmes is.
The publicist finishes by saying that there is no reason for my article anyway: "Nobody even uses the term Silicon Beach anymore."
After the call I look up Holmes and find out that she is another young tech darling, who at 19, claimed to have invented a revolutionary blood-testing technology. She started a company called Theranos, which raised more than $600 million and was valued north of $9 billion. Only the invention may not work as promised. Recently federal regulators banned Holmes from the blood-testing business for two years.
A number of scientists have attacked Meredith's invention. According to the physicist Danny Rogers and other skeptics, generating sufficient power with uBeam's technology would likely make people nearby nauseous and cause hearing loss. By May 2015, none of the scientists listed on uBeam's patents, other than Meredith, were still at the company. The CTO and CFO both left, and a former VP of engineering wrote a series of blog posts in April calling the fundamental technology "not even remotely practical."
After the publicist's angry phone call, I reread the transcripts of my recorded conversation with Meredith. I come across something she said when we were talking about her brother. The one who goes by Penis Bailey and is embarking on a career as a comedy rap musician with lyrics like "You couldn't see me coaching Little League/Rather get my pickle squeezed by a chick with triple-Ds." He wears a silver necklace with a jewel-encrusted pendant in the shape of a large penis. In an interview, he said his penis pendant is always hard because he's always hard.
"My brother just moved to LA," Meredith told me. "He's going to be LA's next biggest movie star. I guarantee you. I brought him over to Warner Bros. and within five minutes the head of feature films asked him to do punch-ups for all their scripts."
"How did you bring him over to Warner?" I asked. She said she'd given a talk there on technology. That part made sense. Meredith is a tech celebrity. Everyone in the LA tech scene has heard of her, and Los Angeles is a town obsessed with celebrity. But the idea that a Hollywood executive would meet a kid with sunglasses and a hoodie wearing a large penis necklace and immediately give him scripts to rewrite was beyond belief. A lot of people—who are not wearing penis necklaces—meet studio executives by chance, and none of them are charged with revising the studio's entire slate.
And just like that, the publicist's phone call changed me from a believer to a skeptic. Meredith surely seems brilliant. And believes in what she's doing. But reading further through the transcripts, I'm struck by an absurd optimism, a pathological confidence that's brought people west for more than a hundred years, first for gold, then for fame. Maybe that's why Silicon Beach landed here in Los Angeles, where the motto has always been "Fake it till you make it."
10
THE HEADSET
Most of the founders I talk to are less social than Meredith. They're not antisocial, but when I ask what they do outside of work, they tilt their heads, as if I were trying to trick them.
"It's essential to move as fast as possible," says Alex Rosenfeld, the founder and CEO of Vrideo, which is 10 minutes away from uBeam. Vrideo is a virtual reality company working out of ROC, "a collaborative workspace for startups, entrepreneurs, and small businesses in the heart of Silicon Beach." Vrideo's goal is to be the Vimeo or YouTube of virtual reality. "Every day or week or month, advantage we build in right now will be the equivalent of a year or two years' advantage in three years' time," Alex says. "If that makes any sense."
"Sure," I say. Though I'm not sure I believe it. For some reason I'm reminded of Friendster. Virtual reality is the great metaphor of our time. All the self-help books, especially the business ones, talk about willing yourself to success, creating your own reality. A virtual reality startup is like a company trying to create its own reality by creating its own reality. "One of the cool things we've been involved in this past year is launching the first-ever virtual reality film festival," Alex says. "We did a 10-city tour across North America with 30 filmmakers and crowds of around 400 people for each event."
I stop Alex because I want to understand something. "So you had 400 people in a room wearing headsets, all watching their own virtual reality movie."
"That's right."
"If they're watching it on headsets, couldn't they just watch it from anywhere? Why do they even need to be in the same place?"
"Very few people have the headsets right now," Alex says by way of explanation.
A room with 400 people, all exploring their own worlds inside their headsets and headphones, unable to see or hear one another, potentially unaware of one another's existence. "You call that bringing people together?" I ask.
ILLUSTRATION FOR SIMULATED MURAL BY YUKO SHIMIZU
A friend suggests I talk to Ms. Edie Elson, a Los Angeles dominatrix, telling me, "She'll have interesting things to say." I contact Ms. Elson and tell her I would like to talk to her about how all the new tech companies have affected her business. Have the clients changed?
Ms. Elson invites me over in the morning. She gives me the code to her building and tells me to be at her door at exactly 10:20 am. Just before I arrive in front of the large steel door, Ms. Elson texts and instructs me to "take two steps inside after you open the door and do not turn around."
I consider knocking but instead push the heavy door open, like I was told, and take two steps into the dark.
"Turn to your right. I want to look at you," a voice behind me says. The voice is calm, with an aristocratic edge.
I turn, but I can't see anything. I feel her hands on my shoulder, tracing down my body, over my ribs, then onto my upper thighs, then working their way inside my shirt, her sharp nails circling my nipples. It feels as if she's memorizing me with her fingers. I've written about my sexual proclivities and experience with BDSM. One of my books is called My Girlfriend Comes to the City and Beats Me Up. Yet I feel certain Ms. Elson has no idea who I am, that I'm a complete stranger to her. (This will prove accurate. When I follow up, she confirms she knew nothing about me.) All she knows is that I'm a journalist here to interview her about Silicon Beach.
I follow her into the sitting room. She sprawls across a large maroon leather chair. She's wearing a short silk robe, sheer tan stockings with a seam up the back, short cream-colored heels.
She points to the footstool in front of her and I take a seat at her feet.
"Could you imagine what it would be like to live here as my slave?" she asks.
I could. She looks like Rita Hayworth and speaks as if she were clasping an unlit cigarette in a long holder. She explains that I would pay all of the rent and make breakfast for her in the mornings. "Just for a month or two," she says. "A break from your everyday life."
She shows me the slave's quarters. Essentially a janitor's closet large enough for a small bed. She's had bars installed on the outside of the window. I wonder if this is how the poorer residents feel around Venice Beach, like they're paying full rent but living in a closet and doing all the work while other people make all the money. Of course, it's different when it's between consenting adults.
I imagine life in the janitor's closet. Locked inside, lying on the small bed, riven with desire. Venice is also full of fantasies. The tech people are living in a fantasy world of instant, spectacular wealth, derived from magical solutions and inventions. The homeless people are also living a fantasy. Some because they're mentally ill and others because of the magical life they've created for themselves next to the ocean. Andrea told me Sris Sinnathamby had a fantasy that the homeless would leave. But the homeless wouldn't leave. In Silicon Beach, all these dreams are colliding, like Bob Dylan says at the end of "Talkin' World War III Blues": "I'll let you be in my dreams if I can be in yours." But sometimes people don't want to be in each other's dreams.
The walls of the janitor's closet aren't quite high enough to reach the ceiling. "I'd like to put barbed wire along the top so you can't climb out. Are you handy?" Ms. Elson asks.
"Not really," I reply.
She moves close and whispers in my ear, "I know what you need."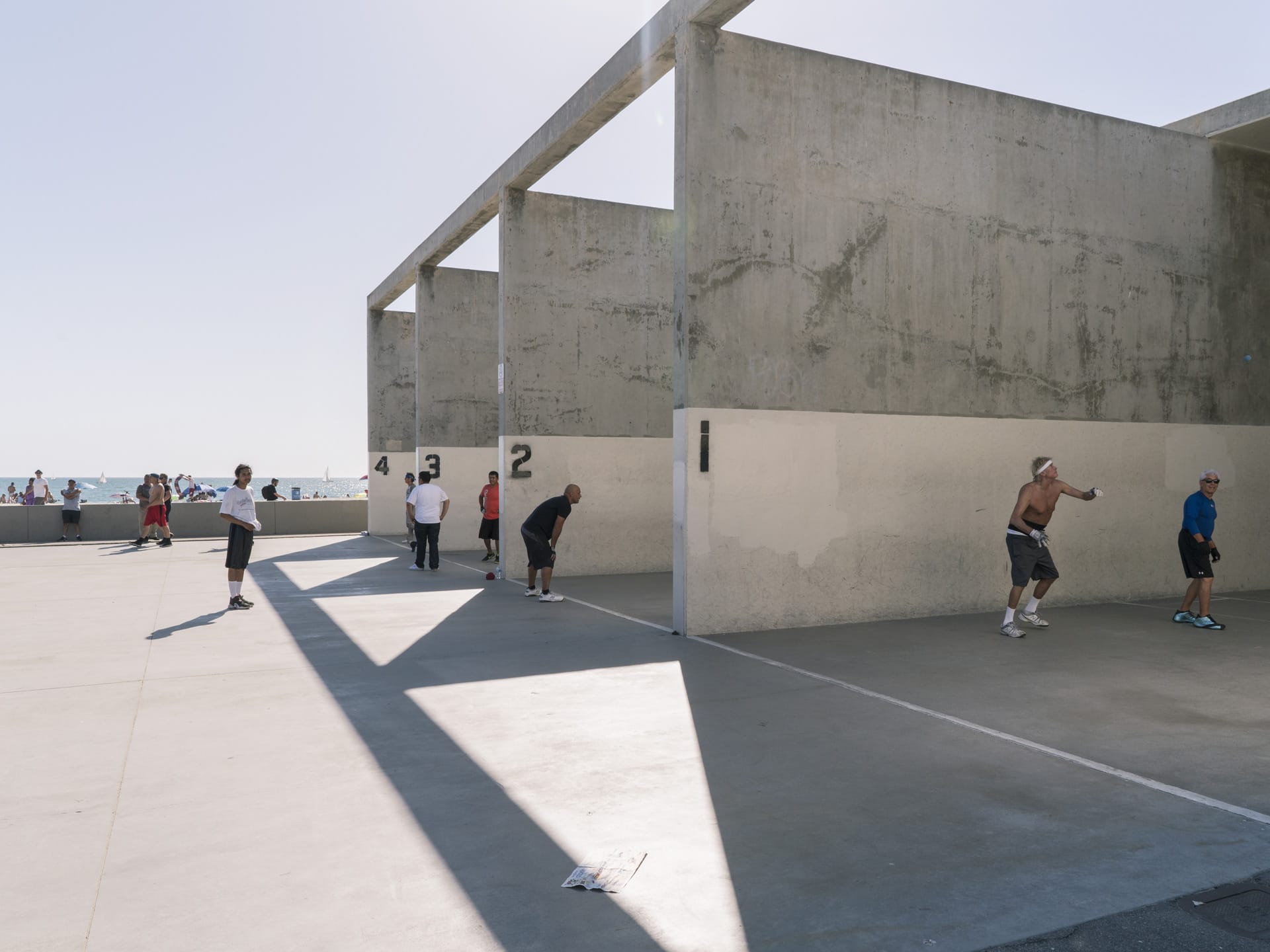 She assures me she'd give me enough time to write if I moved into the slave's quarters. She knows I would still need to do my work; how else could I pay the rent? She leads me around the rest of the space. Shows me the bathroom, the second room with a collection of toys: metal chastity devices, leather hoods, bondage bags. I smile enigmatically. I know I'm not going to move in with her, though I can't deny it's tempting. I've tried to live in a fantasy before, even succeeded for a time. But it's not sustainable. Then again, what is?
I'm amazed that even at 43, life is still completely unpredictable. Strange and magical things can still happen. It's never too late to figure out who you are, then change your mind.
BDSM is a fantasy involving power, but it mirrors real life, with leaders and followers, creators and fans, parents and children. One group, dominants or tops, exerts control over another, submissives or bottoms or slaves. And sometimes the other group wants to give up control and sometimes they don't. Sometimes the fantasy involves fighting back and losing. When you're in bondage, tightly bound, layered in rope, perhaps hooded and gagged, you're not responsible for anything. It could be seen as a return to the womb. It's inherently unequal, yet often very loving. And maybe it's the struggles of the real world forcing their way out the only way they can, into a fantasy realm where they can be safely realized. The world of BDSM is almost obsessively safe. Everything is negotiated in advance. People are checked in on. It's the exact opposite of the real world, where the powerful and the powerless smash against one another like opposing storm fronts.
12
THE MARINE
Paige Craig, a former marine turned venture capitalist, wants to go for a hike in Runyon Canyon. It's 10 am. I don't mind hiking, but I don't celebrate it. I'm not one of those people who would put "loves hiking" in my dating profile.
"He's just like a dominatrix," my editor tells me. "He's forcing you to do something you don't want to do." Editors always want to draw a link between everything. But real life is harder to define. Maybe the clearer link is to Danny Zappin. Paige moved into Danny's old house near Abbot Kinney Boulevard and still gets his mail.
Paige, who runs a fund investing in nascent Los Angeles technology companies, is the person who coined the term Silicon Beach. He thought it would help bring founders to the area.
Paige wasn't exactly born into the investor class. He spent his early childhood in Seattle, where his family lived above a Chinese egg market. Then they lived in Pittsburgh. And then Idaho, where his dad worked in a lead factory. Then they made their way to Los Angeles. For a long time, he says, his bed was the backseat of the family car. "In high school I did football, I wrestled a little bit, I was on the science and math league teams. I was driven. I had this intensity. I ended up getting recruited by West Point," he says. "I loved it at first. And then realized I'm a bad fit for traditional military. I'm not very good at listening to what other people tell me to do."
Paige dropped out of West Point after his third year and began cruising around the country, living out of his car. In New York City he saw a Marine Corps recruiting ad. "I drove down to the local office. And of course the Marine Corps accepts everyone, so I was in."
My brother was rejected by the Marines, so I'm pretty sure Paige's statement isn't accurate. But maybe it seems that way to him. My brother is a police officer in Chicago now, the murder capital of America. He patrols the area on the South Side known as Chi-Raq, a beat cop with blond hair and a Chicago flag stitched on his sleeve in the most segregated city in the country.
Paige stops walking and unscrews his water bottle. I unscrew the water bottle he gave me. I've been following just behind, holding my phone near his face to record him as he talks. It's sunny, and I wish I'd worn a hat. We've been walking for a while, but there are still trees, and it feels like we're a long way from the top. We look at each other for a moment. "Are you getting what you need?" Paige asks.
"I hope so," I say, digging my inhaler out of my backpack.
"Are you all right?" he asks.
"I'm in great shape," I tell him, and we continue.
After five years in the Marine Corps, Paige left the service and went to work as a military contractor in northern Virginia. "And then when the war in Iraq started, I was like, I want to go there. This is the culmination of all my training. I want to be in the middle of it."
Paige flew into Jordan, found a taxi driver to take him into Baghdad for $200, and set up shop with 10 grand that he carried in camera bags. This was post-invasion, roughly October of 2003. "My pitch was 'I will do anything.' Imagine, like, a TaskRabbit for Iraq. When you need shit done, we get it done. I got paid to move trash out of al Anbar. We got paid to deal with scrapped weaponry up and down the highway to Basra, which is all the tanks and all the shit we destroyed and blew up—getting rid of all that shit."
In other words, somehow he went from doing odd jobs to bigger odd jobs, like taking care of destroyed tanks on the highways. It doesn't make sense, but then that whole war doesn't make sense. In George Packer's excellent book on the march to invade Iraq, The Assassins' Gate, he quotes a senior administration official under George W. Bush saying, "I will never, until the day I die, know why we invaded Iraq."
Paige is reluctant to get into the specifics. "A couple of years later both Congress and the US media start attacking us for information operations," he says, "the kind of work we did that I can't get into."
The things Paige can't get into are psychological operation missions, or psyops. In 2005, the Los Angeles Times revealed that Paige's company, Lincoln Group, used its network of connections to plant slanted news stories written by the Defense Department in foreign publications, often by paying the editors of those publications. Also in 2005, The New York Times reported that the Lincoln Group had become the main civilian contractor for an aggressive propaganda campaign in Anbar Province, the Sunni stronghold where al-Qaeda in Iraq took root. (Nine years later, al-Qaeeda in Iraq would become what we know as Isis.) The Times article pointed out that much of Paige's company's marketing materials at the time contained untruths, like listing partners who hadn't actually done work with the company or claiming affiliations with other, larger companies like Omnicom that it hadn't actually worked with.
In less than two years, the Lincoln Group had grown from two founders, Paige Craig and Christian Bailey, into a propaganda juggernaut with more than $100 million in military contracts. The war in Iraq made Paige rich.
We reach the top of the mountain. The view is outrageous, and I'm exhausted. Two helicopters are circling nearby. A woman has hurt herself down the trail. The helicopter approaches, hovering just above. A man slides down a rope to rescue her, landing on the ground and unhitching. Paige wants to watch the scene unfold, but I feel like I'm dying under the California sun and ask if we can head down the mountain.
Paige is telling me about how his career as a private military contractor in Iraq came to a close: "I realized in my fifth year that if I kept going, I was either going to be that dude who is dead in some war zone, or I was going to end up a very lonely rich dude who does not enjoy life. I sold the business."
From Iraq, Paige went off to Egypt and Puerto Rico, Australia, DC, LA, Boston, and Boulder. He thought of doing microfinance in countries like Sudan. Then he ended up in San Francisco and went to TechCrunch50, a conference started by a popular blog where fledgling startups compete for a $50,000 prize. "I was like, holy shit, this is how the Googles of the world get created?" he says.
As we approach the base of the canyon, a public park full of families with their children and pets, blankets spread between the trail and the parking lots, Paige tells me, "What you have to be willing to give up to be successful in a startup is extreme. You wake up and you're putting everything—your time, your relationships, every dollar, every asset you ever earned—it's all going to this one thing, and you know every day that it's fragile and can be destroyed at any moment. A bad contract, poor execution, a bad story—so many things could kill your business. And you're asking yourself, 'Why the fuck am I doing this? What's the meaning of all this?'"
Back at Paige's home he offers me a granola bar. He's just moved in and the house is mostly empty. I get into my rental car. I don't like driving. Paige's description of what you need to be successful in a startup didn't sound any different from what you need to be successful in life. It's all fragile. Paige talked a lot about the importance of stories for a startup, and the ability to communicate your story, first to investors and then customers. Joan Didion didn't live far from here when she wrote her elegy to the late '60s in Los Angeles, The White Album. It begins, "We tell ourselves stories in order to live." But she was talking about a time when she had stopped believing those stories. The acid wasn't doing what it was supposed to. The speed freaks were taking over. The movement was turning murderous.
They called it the Age of Aquarius. Manson called it Helter Skelter. Silicon Beach is a catchphrase meant to convey a story. Something more than surfers and money and drugs. But silicon is just sand.
ILLUSTRATION FOR SIMULATED MURAL BY LAUREN TAMAKI
Tao Ruspoli is an actual Italian prince. He lives in a small house near Abbot Kinney Boulevard in the heart of Venice, equidistant from the canals, the ocean, and Santa Monica. The house is only 800 square feet, with one bedroom, but there's extra land where he's parked four vintage trailers. He's also built an outdoor bathroom and an outdoor office surrounded by glass, like an oversized phone booth.
Tao met Mona, the eccentric landlord I interviewed earlier, in 2000. He was living in a house in Coldwater Canyon that he was supposed to inherit from his father. "My dad sold our family castle to get us this little house. Then my mom married an art forger who ended up going to prison in Spain, and I ended up with all these lawsuits. My friend David Greenberg said, 'You've got to call my friend Mona.' He didn't dress as a woman then, but he had these 9-inch-long fingernails." Mona knew about real estate and advised Tao on his lawsuits in Coldwater. "He really knew what he was talking about," Tao says, "but in the end we lost the house."
After that Tao moved into a school bus he bought on eBay. In 2001 he took the bus to Burning Man, where Mona moved in with him. "We lived out there on the bus for like eight months, shooting video. When we came back, Mona let me park in the Gas Company lot."
I clarify that we're talking about the building where Google is now, a mile away from Paige Craig's place. "Yes," he says. "The Google building." Of course, this was years before Google started renting the offices, asking potential hires if they "prefer the sand and surf over a mountain view? Want 300 days of sun a year?" And promising "a climbing wall, an outdoor movie theater, a rooftop deck with views of Venice Beach, and a Michael Mina–trained chef."
Tao decided to start a filmmaking collective, which he ran out of the bus. "It was funny because I was obviously living there. I would joke that it had all the luxuries and none of the essentials. It had editing systems and nice couches but no bathroom, no shower, no kitchen. I used the bathrooms and shower in the Gas Company Building."
While living in the bus and running the filmmaking collective, Tao made a number of well-regarded documentaries on topics as varied as flamenco and his family's drug addictions.
In 2002 he met a girl who had come to LA to pursue an acting career, and they fell in love. She was 18; Tao was 26. She moved into the bus with him, which is where they were married. The actress's name is Olivia Wilde. They lived in the parking lot, but the editing equipment was now in an office building, so there was more room in the bus. "We were married for eight years. We drove the bus across the country to New York, where Olivia was doing a TV show. By the time I got back to Venice, six months later, everything had changed. It was like Beverly Hills. And I was part of that too, in a way. I was living this kind of fancy life with Olivia and everything. But we still wanted to be in Venice."
In 2008, Tao's first narrative feature, Fix, starring Olivia Wilde, premiered in competition at Slamdance, the film festival set up in shaggy opposition to Sundance. Slamdance is an outsider festival, and yet it has become a very prestigious place to premiere. It's for the insiders among the outsiders, which would be an interesting way to describe Tao, who has always been at the center of something on the periphery.
Tao shows me a coffee table book full of his photographs. He is an excellent photographer. Pictures of the bus on Abbot Kinney and at Burning Man. The boardwalk in 2005. The desert images emit a sense of stark freedom with wide landscapes, but on closer look they seem to suggest a giant, colorful parade.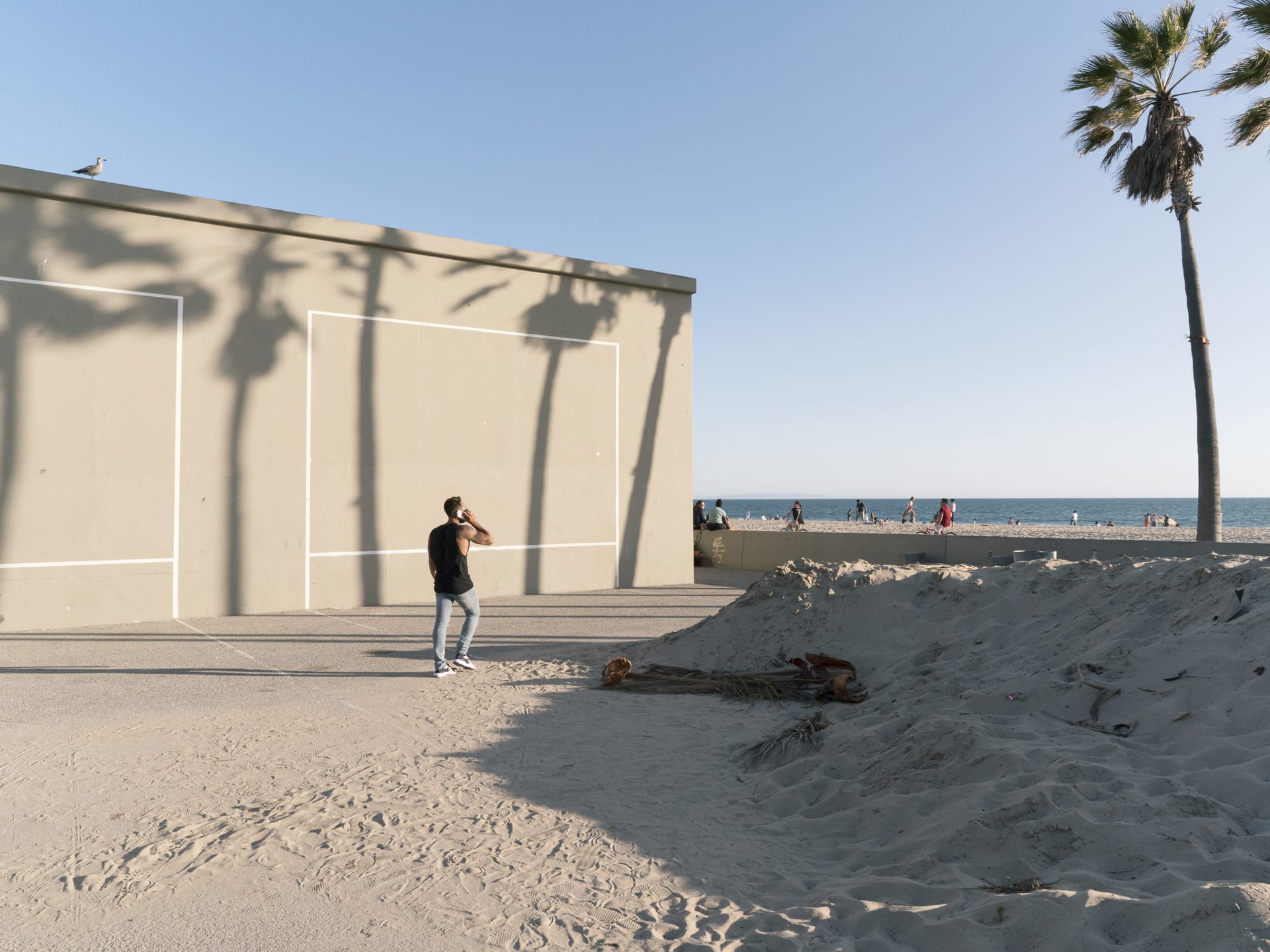 "You know," Tao says, "I used to love going back to Italy because the cappuccino was so much better and the food was so much better. But then the coffee in Venice became drinkable. Now all of a sudden you've got four places where you can drink coffee that's better than in Italy. I go back to Italy and drink the coffee, and I'm actually disappointed. The thing is, if you said to somebody in Italy you were going to improve the cappuccino, they would laugh you out of town. The weight of history is so heavy. What I love about LA in general and Venice in particular is that you get to participate in the evolution of the culture. Like if you go to Rome or New York or Paris or London, these cities are so entrenched in their identities that unless you're some enormous figure, you're not going to be able to actually feel your impact on the place."
Olivia Wilde and Tao separated in 2011. It might seem like she left the beach for Hollywood, but Tao thinks eight years is a successful marriage. I was engaged in my early twenties to a woman I was with for two and a half years, and I've often wished we had gone through with the marriage, even with the inevitable divorce. Just because something doesn't last forever doesn't make it a failure.
14
I'M STILL HERE
On August 30, 2015, Francisco Cardenaz Guzman, the man accused of shooting Shakespeare, was finally found and arrested by the LAPD Fugitive Task Force. He's being held on $3 million bail. The biggest question hanging over the case for me is how it came to be that Sinnathamby, a rich property owner, was in a vehicle driven by Guzman, a known gang member. Alan Jackson, Sinnathamby's lawyer, says Sinnathamby and Guzman met at a bar earlier that night and didn't previously know each other.
According to Jackson, Sinnathamby was at the bar with his ex-girlfriend and another friend. The area was very busy that night, and Sinnathamby was unable to hail a cab. Guzman offered Sinnathamby and the women a lift. "It's not unusual to accept a ride from a stranger in Venice," Jackson says. "That's the culture of the beach."
Is it, though? A gang member and a real-estate baron seem like an unusual combination. All I know for certain is what's in the video: a man who appears to be Guzman shooting Shakespeare three times, the homeless grabbing and beating Sinnathamby after Guzman runs away.
Today everything seems peaceful by the Cadillac Hotel. It's early in the morning and I'm up, wandering the beach. I like it most here at dawn, when there's still a soft purple bruise on the edge of the horizon. I'm struck with a strong urge to stay, though I live on the other side of the country, in New York. At the same time, I've lived lots of places. I'm open to change. I'm the most inconsistent person I know.
Two weeks after Guzman's arrest, a man on a bicycle identified by the police as 55-year-old Edward Martinez spit on the picture of Shakespeare at the makeshift boardwalk memorial. Martinez turned to the homeless men nearby and said, according to witnesses, "You guys are next." Derick Noralez, one of Sris Sinnathamby's alleged attackers the night of the killing, clotheslined Martinez. Several of the other homeless joined in, and Martinez ended up being hospitalized for head injuries. They were convicted of assault with a deadly weapon, the weapon being the footrest of the wheelchair of one of the homeless residents.
In the surveillance video on the night of Shakespeare's murder, a man can be seen beating Sinnathamby with the footrest of a wheelchair.
Most of the witnesses who remember Sinnathamby telling Guzman to "kill that nigger" have now spent time in jail themselves. (Guzman's lawyer, Garrett Zelen, won't concede that the figure in the video is his client. Guzman has pleaded not guilty to the charges.) At least one of the witnesses has speculated that the confrontation with Martinez could have been a setup to discredit them, according to the Argonaut, a free Venice newspaper. In court briefings, the prosecutors seem to agree, intimating that Martinez was acting on behalf of the Venice 13, Guzman's gang.
Ultimately, the case against Sinnathamby is dismissed for lack of evidence. "There's going to be some work required to get his good name back," Jackson says. "But he's looking forward to being an integral part of the Venice community again." Jackson says he's planning to file a motion to have Sinnathamby declared innocent.
Shakespeare's memorial is still standing, the picture surrounded by candles and totems. I pass it before walking across the quarter-mile expanse of sand to the ocean. Venice is like a magnet pulling Shakespeare from Chicago and Sinnathamby from Sri Lanka. Meredith Perry from New Jersey. The only person I've even met who has been here for the majority of his life is a secretive real estate mogul who wears sunglasses and a wig and has 17 televisions in his small living room, all tuned to different channels.
The water is much colder than when I first arrived and shocks me awake. I dive in, thinking of dead poets, third-round funding, seed funding, pre-seed funding, series A—and emerge into the soft haze of a mild and cloudy day, 30, 40 feet from shore. The sun is hidden and the color drained from the sky. Stores are slowly opening on the boardwalk, shop owners rattling and raising the steel gates. Artists are setting up tables to sell pictures at the edge of the beach. I wonder, is this just a dream? Or is it the American dream?
Many of the homeless are still sleeping; I can see the dark outlines of their bags as well as a house painted white and blue and named for a smartphone app. I swim back toward shore. I've always wanted to settle down, but I never did. I wrote in an essay, applying to law school, "I left home when I was 13. It was the best decision I ever made." I was accepted to the University of Virginia, but I decided not to go. I was homeless the entire year I was in eighth grade until the beginning of high school, and I never really stopped being a runaway. I never did go home. I'm driven but restless. I want to achieve, but I don't know what. I have so much ambition, like Venice, like Abbot Kinney building canals in a marsh nobody wanted. Seeing the possible in the impossible. Though when it didn't work out quite as planned, Kinney—like Paige Craig, like Danny Zappin—made the best of the situation. They took what they saw with both hands, grabbing as much ocean and land as they could.

STEPHEN ELLIOTT is the author of seven books including The Adderall Diaries. He is the founding editor of the Rumpus and senior editor at Epic Magazine. His third feature film, After Adderall, will debut on July 30 at the LO-FI Film Festival in Los Angeles.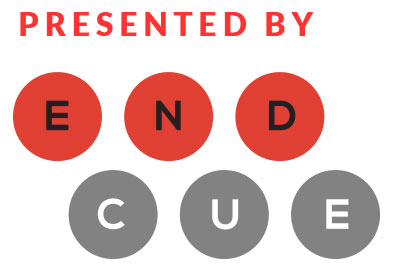 CREDITS Edited by Mark Robinson | Fact-checked by Chelsea Leu | Copyedited by Jennifer Prior | Designed by o Banquinho
Read More Epic Stories